The TARA INN overlooks acres of vibrant vineyards, this turn of the century house consists of four large guest rooms, a special spa bathroom with a large Jacuzzi tub, a huge wrap around porch, and terraces surrounding the entire second story.
Whether looking for a quiet place to sit and read or a room to hang out with family and friends, you'll find the perfect spot to relax at this spacious house.
Ask about the HOT breakfast options, Sat and Sun mornings at the Cellar Door around 11:30 a.m.
See discounted weekday rates when checking for reservation dates.  Specials available for reservations made with less than 24 hour notice.  Some seasons, rooms have special rates.
Rates vary per night+hotel tax/2 guests. 
Checkout weekday special rates insert dates, special rates will display based date chosen
Elegantly appointed with a  king size bed and a private bathroom with Jacuzzi tub. Wake up and watch the sunrise with windows that overlook the Blanc du Bois Vineyard in front of the house. Surrounded by burgundy wine colored walls accented with gold and sage green, this Zen room is true to its name as it provides a tranquil and cozy environment that makes for a perfect getaway for two. Just outside this room is a lovely sitting balcony one inside and one outside.
This is an ADD on room for the whole INN or with another room/ booking tool has 2 room suite with  stagecoach.  Room can be added to any of the rooms, you will need to contact property to add this room which will share bath with primary room. 
Elegantly appointed with a queen size bed, a  bathroom with a claw foot tub just across the hall, and a private terrace/balcony overlooking the back Vineyards where you can enjoy the evening sunset and the live music at the winery patio.  This balcony/terrace has a lovely view of the Winery just up the hill. With French country furnishings, and accents of gray, black, crème, and light blue this room will certainly leave you feeling as though you've stepped out of Texas and into the French countryside for a night of relaxation and romance
$220.00+hotel tax/ 2 guests
checkout weekday special rates insert dates, special rates will show
This is a spacious room with a king size bed, an attached bath, and access to the back terrace and balcony, which directly overlooks the backside Blanc du Bois Vineyard. You can enjoy the evening sunset and the music from the winery on this balcony.
Carriage House Luxury Suite
$265.00 + hotel tax/2 guest.
checkout  special rates insert dates, special rates will  show.  Contact property for special same day rate, if available
On the first floor with a queen size bed resting elegantly in the turn of the century Italian french provincial bed frame from Italy, enjoy the warmth of the gas fireplace on the double chaise lounge. This lovely suite is accompanied by a private spacious spa-style bathroom with a large jacuzzi tub, separate shower and lots of room. and a gas fireplace. The comfortable queen size bed has a luxurious down comforter. Wake up and watch the sunrise with windows that overlook the Blanc du Bois vineyard in front of the house. Surrounded by teal wine colored walls, this elegant suite provides a tranquil and spacious environment for a delightful getaway for two or more
All Four Rooms?
For a special experience, the entire house(4 rooms, 2 queens, 2 kings)  is available to enjoy.  Please call for availability & rates. $1150.00 (Weekday discounts available). Need more rooms, add the CABIN for $135 per night. USE the Book NOW feature or RESERVE NOW tab to reserve your room or the entire INN.
Individual rooms rented on shorter notice depending on availability. A deposit is required to make a reservation. To make a reservation, please go to reserve now button . All deposits are nonrefundable. All cancellations within 15 days of reservation will be charged full price.  Holiday rates are higher and subject to change, holiday cancellations must be made 45 days in advance .
There is no outside alcohol allowed on the winery/inn estate.
For inquiries or to make a reservation please use "contact us" tab on this website.
PLEASE NOTE THESE RATES DO NOT APPLY FOR WEDDINGS, PARTIES  OR EVENTS, pricing for these types of events are customized depending on the time of year, number of people, use of facility etc
Weddings start at $1500.
The TARA cabin sets in a wooded area adjacent to the vineyard fields just up from the TARA pond. The frogs hold a nightly frog concert near waters edge.
The gathering room  is perfect for lounging with a glass of TARA wine. This rustic cottage feels warm and inviting overlooking the tall trees of East Texas country. Outdoor  deck with lounge chairs. Fresh and amazing food just a short stroll along the nature trail through the vineyard at the Cellar Door & TARA winery.
Queen size bed
Shower Only
Hair dryers
Luxurious spa towels
Organic soap and Shampoo
Refrigerator/coffee maker/microwave
Leather couch/table chairs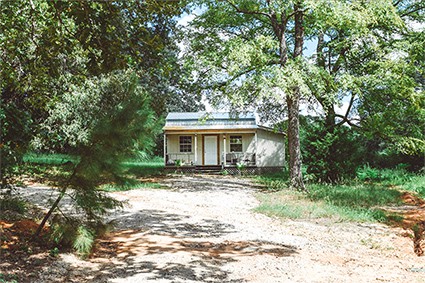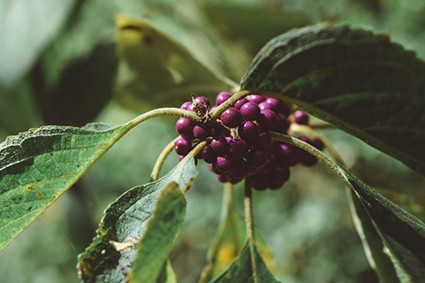 $135.00 per room/per night plus hotel tax  per night
with light breakfast included. Gourmet breakfast served at the Cellar Door Sat and Sun at 11:30 a.m.
Cabin add on to the whole INN, $125 plus tax.
For availability or questions please use the "contact us" or email sipoftexas@tarawinery.com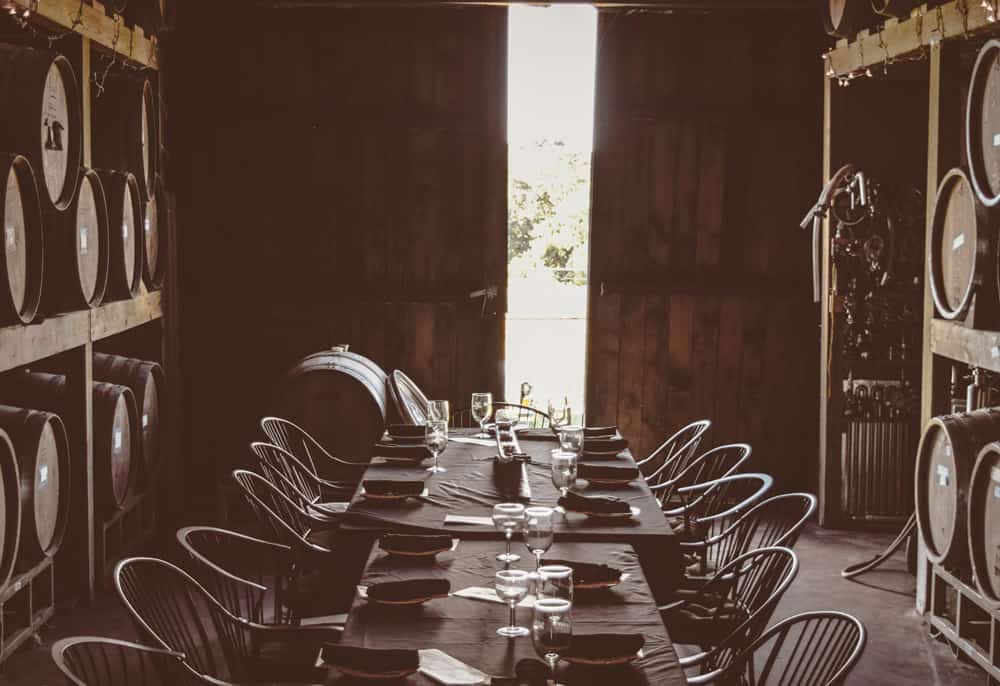 Separated from our dining area, the Barrel Room is perfect for a romantic evening for just the two of you or spacious enough for a business meeting (bridal parties, baby showers, etc.). This area accommodates 2 to 25 people with a $250 non-refundable deposit. This is room rental fee and does not go towards your bill.
This is NOT an overnight accommodation but you may reserve the day now and we will contact you immediately to discuss party type & head count, food and budget.
Share plates, appetizers available during all hours of operation.
Our winery and wine tasting room will open at 2 p.m. Wednesday- Friday and full business hours on Saturday and Sunday. Open other days/hours by reservation & deposit
Reservations by phone or email only, first come first serve. Large parties of more than 10 people should call first to make arrangements.
Last seating at the restaurant is at the close time.
We make beer too. Downtown Athens Location only